The first luxury housekeeping courses of their kind
Master luxury housekeeping and specialist interior skills with the top online training courses designed by industry experts
COMPLETE PACKAGE
CLEANING & LAUNDRY COURSES
EXTRA CERTIFICATE
ADDITIONAL CLEANING COURSE CERTIFICATE

Select the quantity of additional certificates in checkout

Invite users to enroll using your enrollment key
FOUNDATION CLEANING
COURSE
FOUNDATION LAUNDRY COURSE

You might be thinking you don't need to learn how to clean or do laundry
Maybe you think you already know how to do both or you're expecting to learn on the job. Unfortunately, that's what most think, but the reality is quite different. From day one your job will include long hours and some pretty unglamorous situations. The job is fast paced, leaving little time to learn and zero room for costly errors. 
Expectations within the luxury industry are also incredibly high. This is an industry where cleaning and laundry are a refined and particular skill, and something you will be doing 85% of your time, so you must know what you're doing and do it right.
Reasons why people working in luxury interiors and housekeeping love our Source training courses:
The Cleaning Course consists of six modules, which cover everything from basic cleaning principles, to choosing the right chemicals for the task. It includes our Eye for Detail Challenge and access to our PDF resources. Essential  for anyone in housekeeping.
The Laundry Course includes four modules, covering everything from how to identify fabrics and weaves, to stain removal. This will give you the foundation knowledge you need to wash, treat and dry any type of fabric with confidence. It includes access to our PDF resources.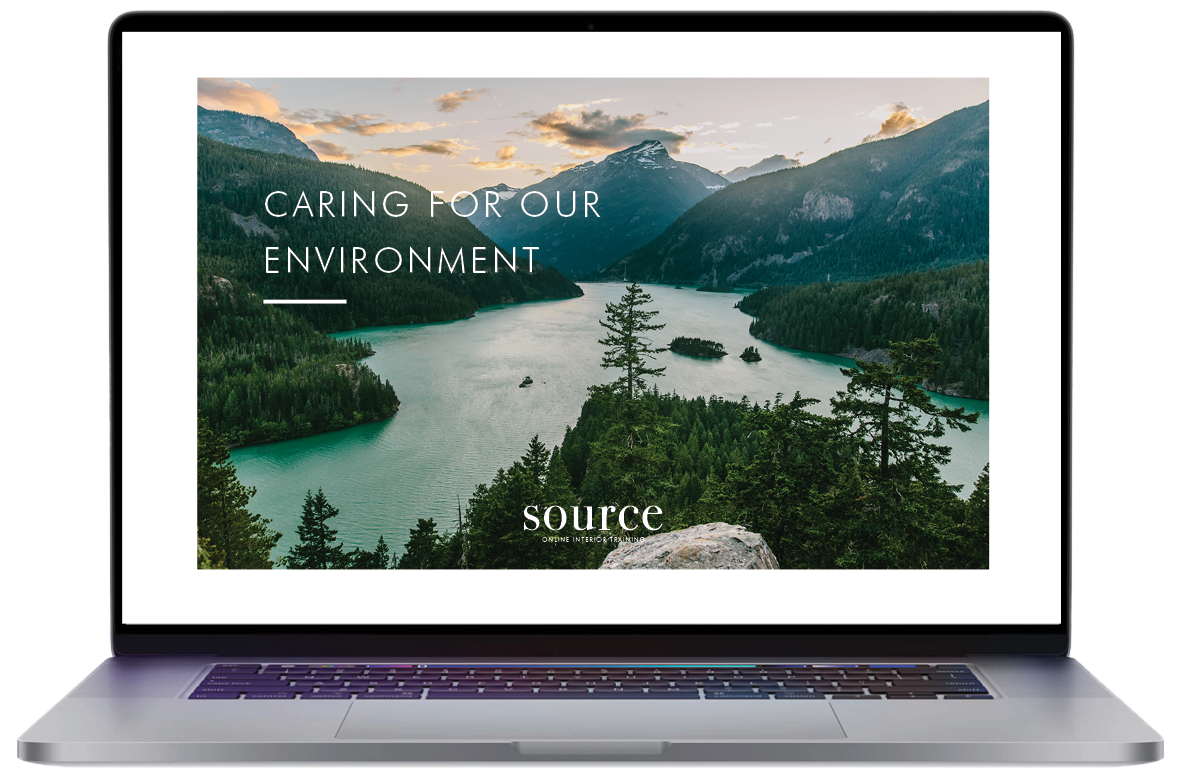 WANT TO GO ECO?
HOW TO START
When you're trying to choose the right products to clean with, that are also safe for the environment, it's easy to feel lost when faced with complicated scientific jargon and marketing ploys. 6 simple steps to choosing the most planet-friendly products on the market and know the brands to put your faith in.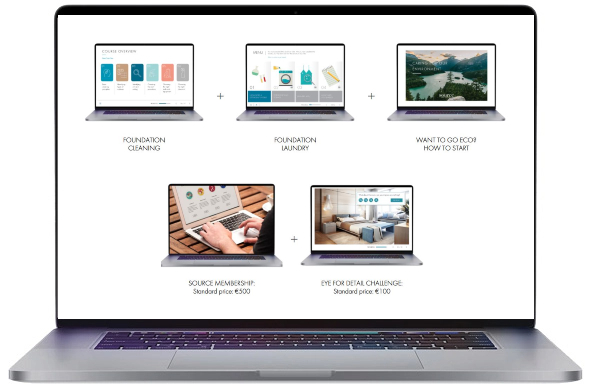 The Complete Collection includes both the cleaning and laundry courses, our "I want to go eco, but where do I start?" guide, an Eye for Detail challenge and PDF resources for both our cleaning and laundry courses that you can download or print.
Source is the industry-leading online training company of its kind. Our courses have been designed by experts who know what is needed to achieve a successful career in luxury housekeeping.
You could choose from a number of courses available, but many often only cover the basics for housekeeping in hotels and offices, usually with a focus on cost-cutting and speed-cleaning. We pride ourselves on offering unique courses, where you'll learn the most up-to-date cleaning methods that work, proven by top luxury interior professionals who truly care about the finer details – you could be laundering table linens or cleaning stone surfaces that are worth more than a car, so extra care needs to be taken.
Our Source courses offer industry-certified qualifications backed by professionals, so you know you're in safe and experienced hands, perfect for setting you up for a successful and enjoyable career. 
A course for you,
on your terms
Study from anywhere at your own pace

Improve your career success

Learn essential knowledge for your role

Avoid common pitfalls or costly mistakes

Boost your confidence

Get expert advice and time-saving tips

Enjoy travelling the world
We're really confident you're going to love our courses and get so much out of them that we offer our Source promise on all our courses. If you're unhappy with the course you buy, simply get in touch within 7 days after purchase and we'll give you your money back.
Source training founder, Sheila is an ex-stewardess, mother of two boys, grandmother and founder of two successful businesses.
Sheila worked as a stewardess for a number of years, has always had a deep love for the ocean, and is an environmentalist at heart. It was this love and passion to preserve nature which led Sheila to launch her first business, EYS – Environmental Yacht Services – a supplier of eco-friendly products to yachts across the world.
From her own experience as a stewardess and from supplying to many luxury yachts, Sheila noticed there was a clear gap in knowledge and learning for laundry and cleaning personnel. This is why she set out to raise the standards, by creating Source training. She enlisted the help of other top experts within luxury cleaning and laundry to help create truly unique and insightful courses with you in mind.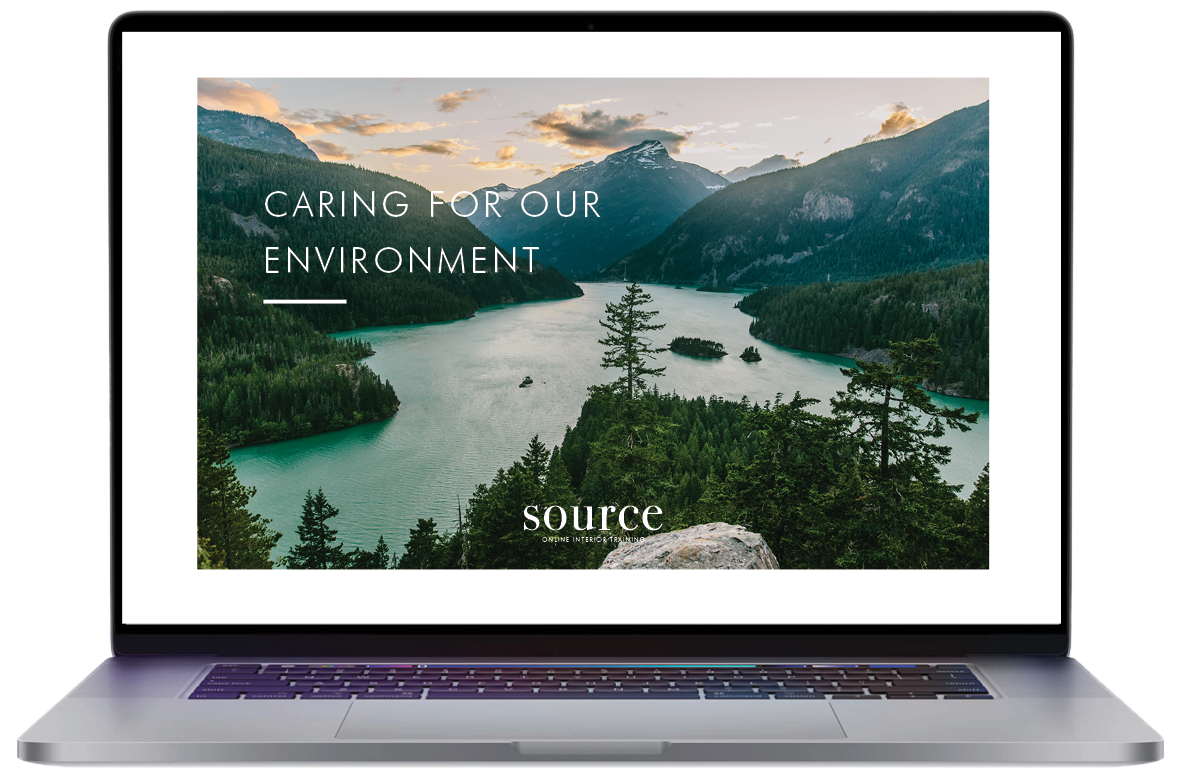 WANT TO GO ECO?
HOW TO START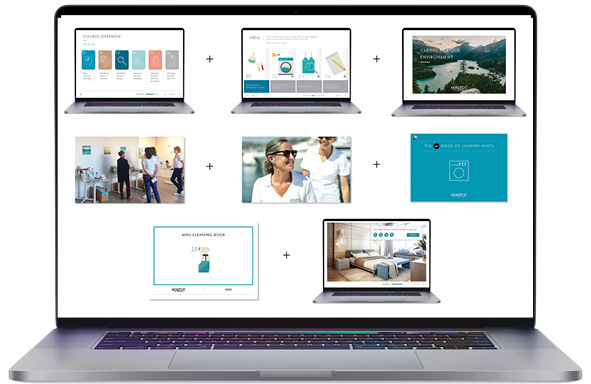 WANT TO GO ECO?
HOW TO START Rajesh
100mplus
I was in quarantine, so I thought of using my time by doing some courses. I heard a lot about you from other crew so I bought all the courses without giving any thought. And I am glad that I made the decision. Thanks for the wonderful course and knowledge you have shared in these online courses. Jo
75m+
I think the courses are very useful and accurate. They are great to use as part of an introduction for any new crew joining an interior team. Aine Leonard
aleonard
I took the Source cleaning course as I have just started working in a luxury hotel. I felt so confident on my first day and have received no complaints yet. Katarina Ivanov
kivanov
Wow! I just did the laundry and cleaning courses. They were even better than anticipated. The information is so clear, complete and interactive. Go for it! Javier Morales
jmorales
If you are wondering about the quality of these courses, just check out the online demos. One tip: the cleaning course is quite long, so don't try to do it all in one go. Well worth the investment! Yacht Stewardess
75m
This is a great interactive learning tool. If you are new to the industry, it delivers a lot of information without overwhelming. And for those with more experience, it is a really handy reference!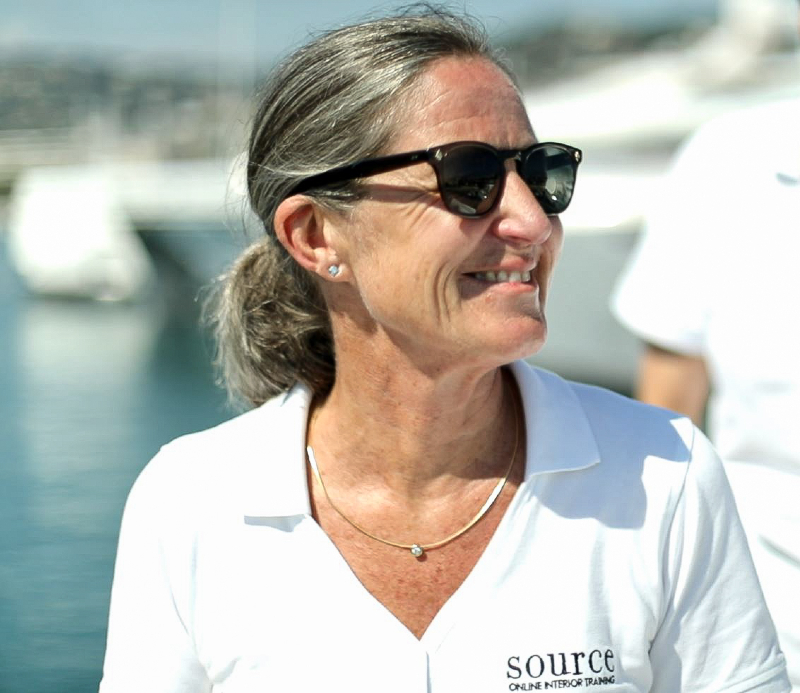 Welcome to the Source crew, and good luck!