Upskill and get confident in laundry to boost your housekeeping career
Our Laundry Course will teach you everything you need to pursue a career in laundry with confidence 
Reasons why people working in luxury interiors and housekeeping love our Source training courses: Rajesh
@100mplus
I was in quarantine, so I thought of using my time by doing some courses. I heard a lot about you from other crew so I bought all the courses without giving any thought. And I am glad that I made the decision. Thanks for the wonderful course and knowledge you have shared in these online courses. Aine Leonard
@aleonard
I took the Source cleaning course as I have just started working in a luxury hotel. I felt so confident on my first day and have received no complaints yet. Katarina Ivanov
@kivanov
Wow! I just did the laundry and cleaning courses. They were even better than anticipated. The information is so clear, complete and interactive. Go for it! Javier Morales
@jmorales
If you are wondering about the quality of these courses, just check out the online demos. One tip: the cleaning course is quite long, so don't try to do it all in one go. Well worth the investment! Jo
@75m+
I think the courses are very useful and accurate. They are great to use as part of an introduction for any new crew joining an interior team.
The details - what's covered in this course
This module will teach you how to identify different types of fabrics.
You'll learn:
How to tell what garments and items are made of
How to decipher care labels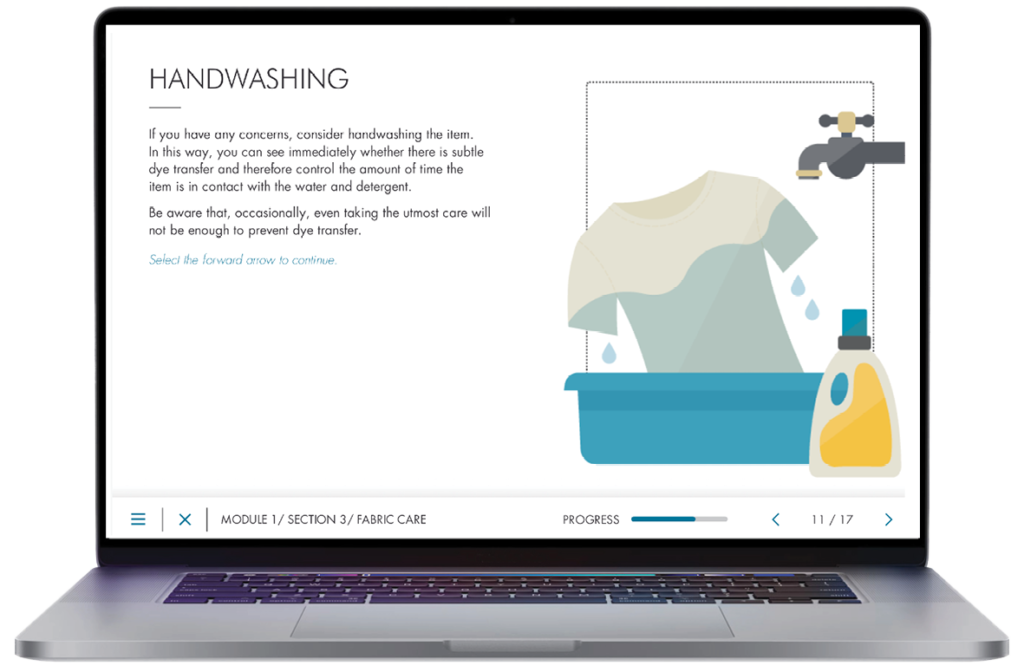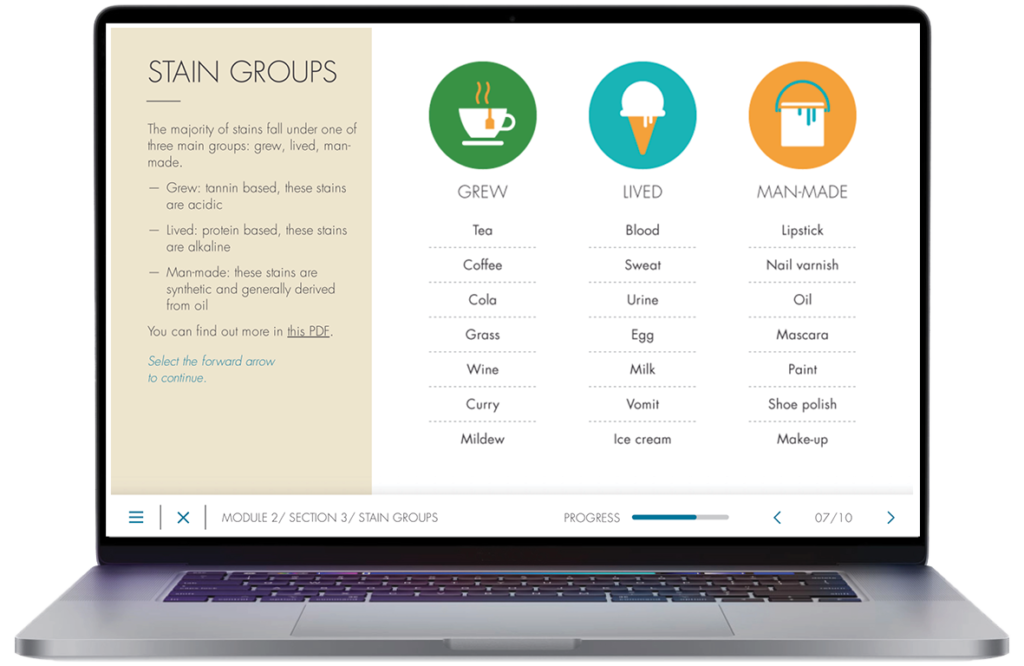 In this module you'll learn everything you need to be able to identify and treat stains.
You'll learn:
How to identify a stain by using the FOCAL method

What to treat stains with

The techniques you can use to treat stains

How to treat a stain without damaging the garment or item
This module will teach you all you need to know about detergents and laundry aids.
You'll learn:
How to choose the right detergent for different types of fabric

Why enzymes can be your best friend or your worst enemy

What, when and how to use laundry aids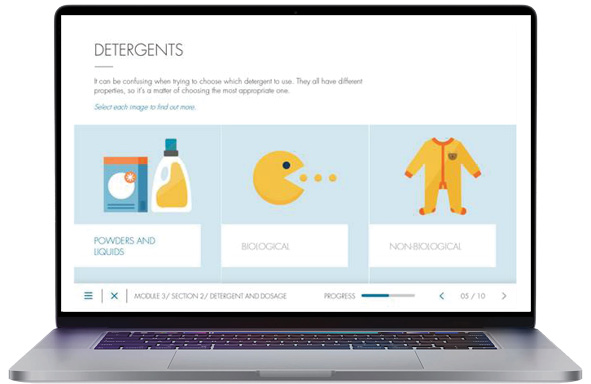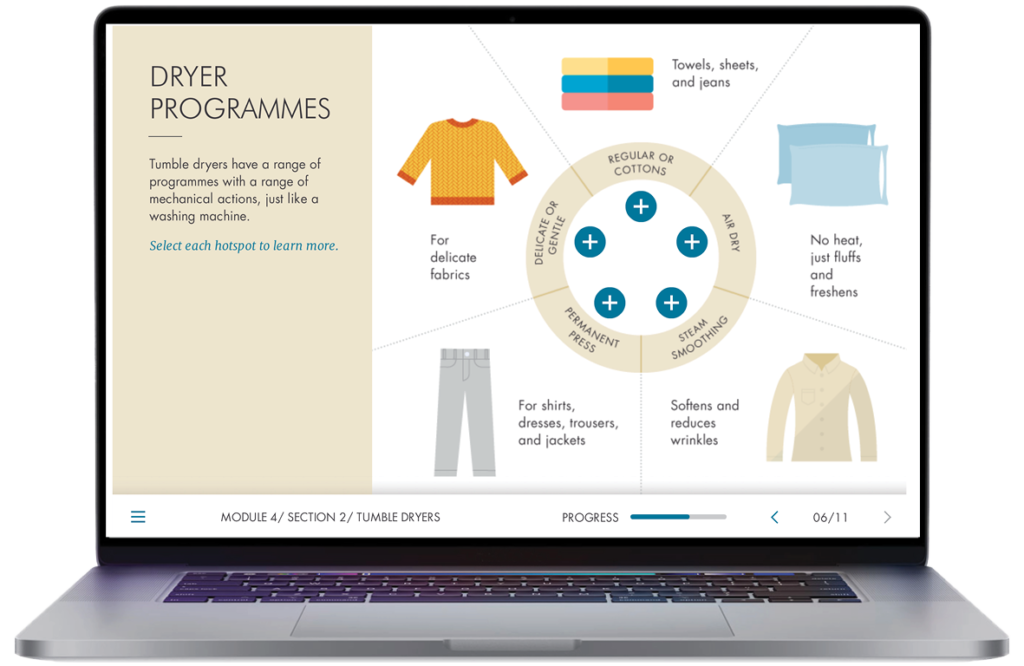 So many buttons and settings. In this module, we'll take you through the ones you'll definitely be needing.
You'll learn:
The settings to use for different types of fabrics
Whether you should use a hot or cold wash
When to use a dryer and when not to
How to avoid mistakes when using a washer or dryer
Source is the industry-leading online training course company of its kind. Our courses have been designed by experts who know what is needed to achieve a successful career in luxury housekeeping.
You could choose from a number of courses available, but many often only cover the basics for housekeeping in hotels and offices, usually with a focus on cost-cutting and speed-cleaning. We pride ourselves on offering unique courses, where you'll learn the most up-to-date cleaning methods that work, proven by top luxury interior professionals that truly care about the finer details – you could be cleaning glassware and cutlery that's worth more than a car, so extra care needs to be taken.
Our Source courses offer industry certified qualifications backed by professionals, so you know you're in safe and experienced hands, perfect for setting you up for a successful and enjoyable career.  
You might be thinking you don't need to learn how to clean or do laundry
Maybe you think you already know how to do both or you're expecting to learn on the job. Unfortunately, that's what most think, but the reality is quite different. From day one, your job will include long hours and some pretty unglamorous situations. The job is fast-paced, leaving little time to learn and zero room for costly errors. 
Expectations within the luxury industry are also incredibly high. This is an industry where cleaning and laundry are a refined and particular skill, and something you will be doing 85% of your time, so you must know what you're doing and do it right.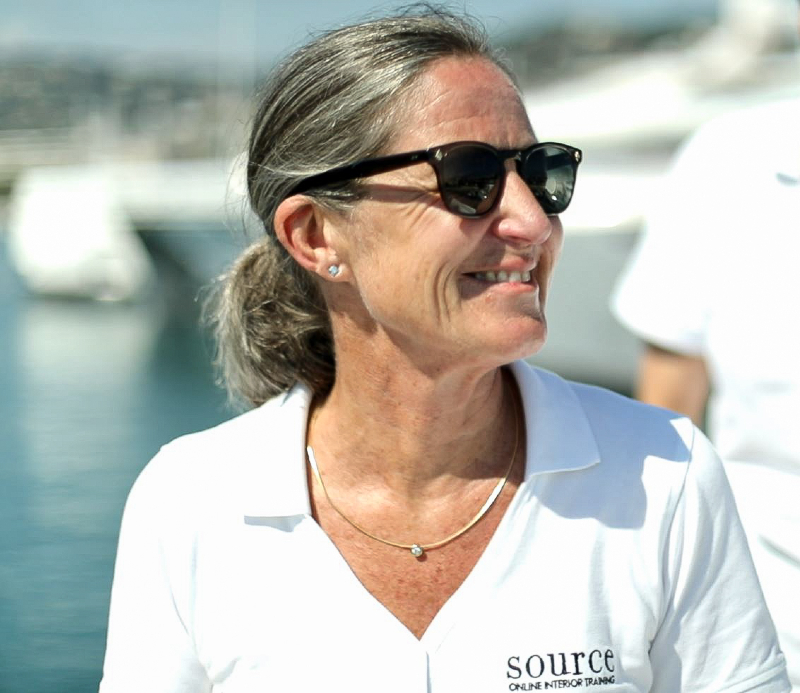 We're really confident you're going to love our courses and get so much out of them that we offer our Source promise on all our courses. If you're unhappy with the course you buy, simply get in touch within 7 days after purchase and we'll give you your money back.
A course for you,
on your terms
Study from anywhere at your own pace

Improve your career success

Learn essential knowledge for your role

Avoid common pitfalls or costly mistakes

Boost your confidence

Get expert advice and time-saving tips

Enjoy travelling the world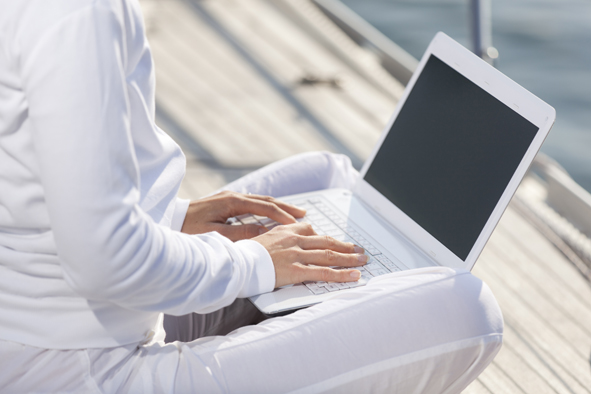 Got a question? Check out our frequently asked questions.
Our Laundry Course has been created by experts to give you the foundation knowledge and confidence you need to tackle any laundry challenge. 
The course includes four interactive modules covering everything from how to identify fabrics and clean, dry and care for them, to getting tough on serious stains. 
Plus, it's all online, so you can complete it from anywhere and at any time using a laptop, tablet or smartphone. 
Click below to view a short video demonstration
FOUNDATION LAUNDRY COURSE
+ 1 Bonus
FABRICS, FIBRES & WEAVES

How to identify different fabrics.

STAIN REMOVAL

How to identify stains and remove them safely.

DETERGENTS

Learn how to tell what type of dirt or soiling is what.

WASHERS & DRYERS

Learn about all the buttons and settings, including when to use them and when not to.
Welcome to the Source crew, and good luck!